Cultivating a Sense of Place
Bay Area native plant gardening
By Rhea Maze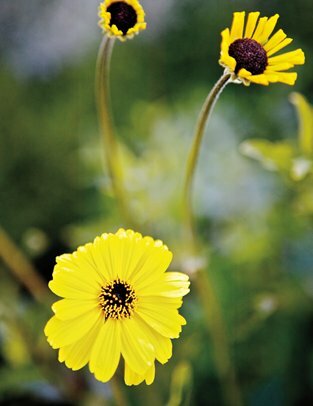 Native Encelia californica shine brightly in Osaka's garden.
Photographs by Lane Johnson
At Sherri Osaka's home in Campbell, three California coast live oak trees form a natural border between the sidewalk and the front yard, providing shade for people and a habitat for wildlife. Bees and hummingbirds hover near the purple Mexican sage bush flowers. Osaka, Director of the California Native Plant Society's (CNPS) Gardening With Natives Program, points out snowberry bush, mock-orange, sages, coast sunflowers, and penstemon—each California native plant labeled for the benefit of visitors.
"With gardening, there is always something new to learn," she says.
Osaka's yard is a masterpiece of careful planning. It is drought-tolerant, hydro-zoned, drip-irrigated, and includes a colorful mix of native California plants, low-water plants, fruit trees, and edible plants.
"I haven't used pesticides or fertilizers in 17 years," Osaka says, as a squirrel darts past the worm bin and the small National Wildlife Federation sign declaring this garden a certified wildlife habitat. "I just use compost, bark mulch, and grass-cycling. Leaving clippings on the ground adds a lot of nitrogen," she says.
Like Osaka, many Bay Area homeowners are thinking outside the lawn-and-roses box. California is home to about 6,000 native plant species, 2,000 of which are found nowhere else, making our state a world-renowned biodiversity hot spot for rare flora and fauna. One way to preserve that biodiversity is to forgo the cheap non-native flowers at big-box stores and instead plant what grows naturally in the Bay Area.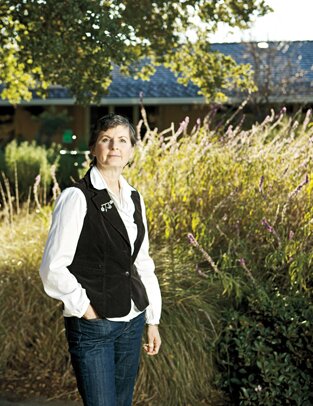 "California is a special place on earth…One of the best ways to preserve and learn about native plants is to grow them in your garden," says Arvind Kumar, President of the CNPS's Santa Clara Valley Chapter.
Native plants naturally meet the needs of wildlife, don't require a lot of water, thrive without pesticides and fertilizers, and allow gardeners to connect with an authentic sense of place. If you don't have a green thumb, no worries: Mother Nature does. Plant a garden filled with natives and she'll do most of the work.
"When I first started [gardening with native plants], it was all about low maintenance," Kumar says. "People don't realize that maintaining a lawn is hard work. You have to water, mow, fertilize, and aerate. A lot of us blindly accept this because it's what the neighbors are doing, but the average lawn bill for homeowners is about $1,800 per year," he says.
Lawns also take a huge environmental toll. It is estimated that over half the water used in California goes to landscapes. Thirsty, non-native grasses and gardens don't fit well with our Mediterranean climate, which is dry for so much of the year.
"Water is a precious and finite resource. Santa Clara County imports roughly half of its water supply from the Sacramento-San Joaquin Bay Delta, which is an important ecosystem for hundreds of species and a key source of water for farmers and over 25 million Californians," says Virginia O'Rourke, Water Conservation Specialist for the Santa Clara Valley Water District.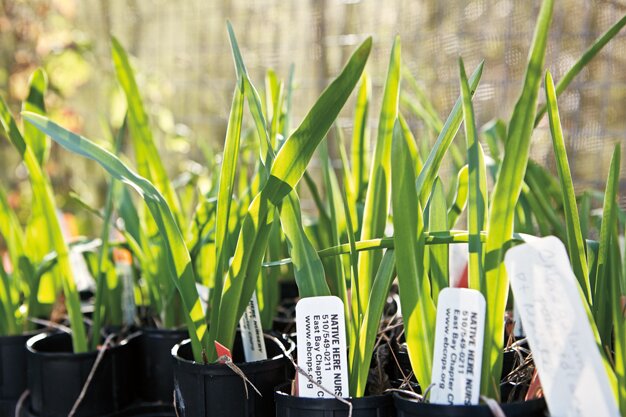 Competing interests for water, the certainty of future droughts, and California's continued population growth make conservation imperative. "One way to conserve is to plant low-water plants," O'Rourke says. The District offers property owners rebates for converting residential or commercial sites into low-water landscapes.
The Bay Area Water Supply and Conservation Agency (BAWSCA) provides a similar incentive. Their "Lawn be Gone" program offers a rebate of 50 cents per square foot to residents who replace their lawn.
"Water is limited... There are not enough local supplies to meet our needs," says Nicole Sandkulla, BAWSCA's Water Resources Planning Manager.
It might seem difficult to switch to a lawn-free yard until you consider the fact that lawns typically use about three times as much water as other plants in the landscape. Lose the lawn and you save money on your water bill.
A patch of native sedge grass grows in Osaka's font yard where a lawn used to be. Slow growing, it reaches a maximum height of about 6 inches, stays green all year, and doesn't require a lot of water or maintenance. "You can mow it, but I just kind of weed-whack it. It fills in nicely," Osaka says. Her entire front yard is full of color yet rarely needs water.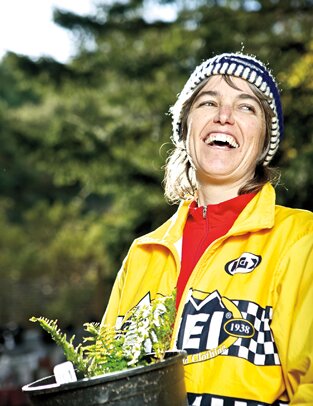 Other native lawn alternatives include bunch, needle, oat, and melic grasses, blue wild rye, wild lilac, coyote bush, and wildflower mixtures. The sage, manzanita, and ceanothus families also provide good groundcover options in all shapes and sizes. "It just takes some education. It's all about selection and spacing," Osaka says.
For those who want color, Kumar recommends native wildflowers. "Poppies and clarkias are very easy to grow," he says. Some of his other favorite native plants include hummingbird sage, toyon, coffeeberry, blue elderberry, yarrow, oaks, and the beautiful California buckeye tree.
Besides removing your lawn and planting native plants, other ways to save water and money include using drip irrigation, amending soil, and covering exposed dirt with two to three inches of compost or mulch. "Compost creates a nice blanket and provides nutrients…it also keeps moisture in and heat out, creating greater efficiency," Sandkulla says. Hydro-zoning, which involves grouping plants together based on their irrigation needs, also helps to save water.
At Native Here Nursery, a nonprofit project of the CNPS's East Bay chapter, volunteers have obtained permits that allow them to safely collect native plant cuttings and seeds from regional parks and other locations.
"We're more strict [than other nurseries] and only sell local native plants. We're trying to get people to think in terms of what's native right where you live," says Margot Cunningham, the nursery manager. Native Here Nursery's plants are organized by city, making it easy to find what naturally thrives in a specific area. Plant identification cards provide information on each plant's origin and where it grows.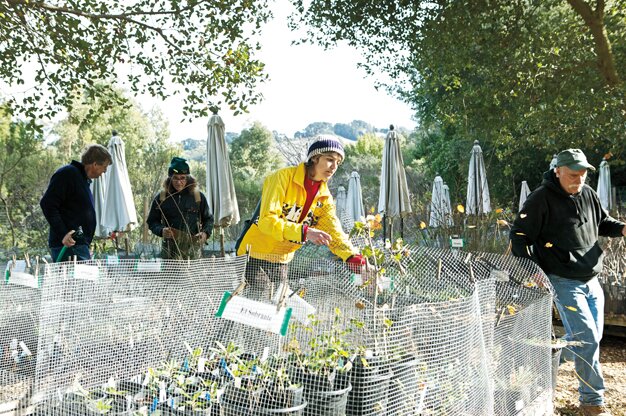 Cunningham suggests that people start out small so they don't get overwhelmed. "Don't try to plant your whole yard at once. It's best to plant one to four plants a year and see how they do," she says. She encourages gardeners to seek out books and online resources such as www.calflora.org in order to fully evaluate what would grow best in their specific location.
"It's a form of restoration to plant what used to grow here. It brings back ecosystems and wildlife. Plus, it's enjoyable and puts you in touch with a place," Cunningham says.
---
Visit our local native plant nurseries for ideas and inspiration
Yerba Buena California Native Plant Nursery 19500 Skyline Blvd., Woodside,
Common Ground 559 College Ave, Palo Alto,
Summerwinds Nursery 805 Yuba Drive, Mountain View, ; and 725 San Antonio Rd., Palo Alto,
Bay Natives 375 Alabama St., San Francisco,
Annie's Annuals and Perennials 740 Market Ave., Richmond,
Native Here Nursery 101 Golf Course Rd., Berkeley,
Oaktown Native Plant Nursery 702 Channing Way, Berkeley,
East Bay Wilds Native Plant Nursery 1972 36th Ave., Oakland,