Making Cheese & Caretaking the Land
Sustainable cheesemaking in the Bay Area
By Doña Bumgarner
Redwood Hill Farm, Sebastopol
Photo by Sharon Bice, courtesy Redwood Hill Farm
Farmstead cheesemakers build their traditional, slow-craft cheese from the ground up, guided by the principle that it takes great milk to make great cheese. These farmer-artisans make use of the special qualities of their land to raise cows and goats that produce exceptional milk. Much like small-batch vineyard wines, farmstead cheeses concentrate the flavors of their ingredients, picking up nuanced hints of seasonal grasses, the quality of water the animals drink, and even live cultures in the local air. Here's a look at four Bay Area cheesemakers who produce cheese from the milk of their own flocks.
Schoch Family Farmstead
Located just north of Salinas, Schoch Dairy has been run by the Schoch family for three generations. One of the last remaining dairies in Monterey County, it has survived and thrived by changing with the times.
"Small dairies go out of business every day in this economy," says farmer and cheesemaker Beau Schoch. To keep up with the volatile market, Schoch and his brothers began making cheeses for local farmers' markets and grocery stores.
Schoch's Monterey Jack is smooth and mild, with a light golden color and slightly nutty scent—much different than the bland supermarket-style Monterey Jack. Schoch makes it and three other aged cheeses—Swiss, Edam, and gouda—from raw, unpasteurized milk, which he says allows seasonal flavor shifts to carry through.

"Terroir is very much present in our cheese," Schoch says, referring to the special characteristics that local geography and climate bestow upon farm products like cheese, wine, and tea.
This emphasis on "place" makes the Schoch family active stewards of their land. They practice rotation grazing to let their pastures recover from the impact of the animals, and they have replanted native hedgerows and a riparian zone along a creek that borders their property. Their cows' diet is supplemented with trimmings from local produce-packing sheds and almond hulls from neighboring almond ranches, keeping those products out of the dump. "The greens are mixed with alfalfa and oat hay," Schoch says. "It looks like salad."
When he starts a new batch of cheese, Schoch uses milk that is still warm from the cows, which are fed only grass and hand-milked by the Schoch family. As the batch ages, he turns and brines the cheese by hand three times a week so it develops a natural rind.
Schoch Family Farmstead cheeses can be found at the Monterey Farmers Market (Fridays at Monterey Peninsula College), Aptos Market, Whole Foods Monterey, and Carmel Cheese Shop.
Nicasio Valley Cheese Company
Scott Lafranchi starts his day early in the remodeled barn that houses Nicasio Valley Cheese Company's creamery. The cows are milked at 6:30 a.m., and "by 8:30 the milk is going into our vats," Lafranchi says. He produces six types of Swiss-style cheese based on traditional recipes passed down to his family by a cheesemaker from the Swiss village where his grandfather grew up.
Situated on more than 1,000 organic acres, the Lafranchi family dairy has been around since 1919, but they didn't start selling cheese until 2010. While the recipes are traditionally Swiss, the cheeses are vintage Northern California, Lafranchi says. All of Nicasio Valley's cheese is made with organic, pasteurized milk. "The milk is different here," he says. "It is so fresh."
Nicasio Valley Cheese Company is California's only certified organic farmstead cheesemaker. The Lafranchi family dairy utilizes sustainable ranching practices, including rotation grazing and manure management. The dairy mixes the ranch's cow manure with a neighbor's horse manure and local green waste to produce high quality compost. The compost is used for cleaner pasture fertilizer and is sold back to the local community.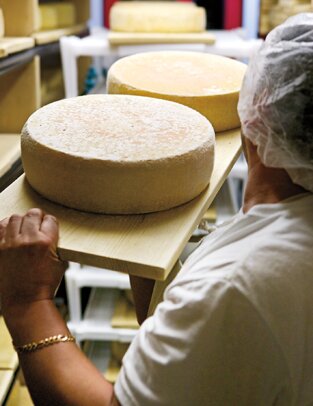 Visitors are welcome at Nicasio Valley Cheese Company's retail store at 5300 Nicasio Valley Road in Nicasio (www.nicasiocheese.com). The company's cheeses are also available at Draeger's Market in Menlo Park, Los Altos, and San Mateo, Bianchini's Market in San Carlos and Portola Valley, and Andronico's in Palo Alto.
Redwood Hill Farm
Three miles down the road from the red barns and frolicking goats at Redwood Hill Farm in Sebastopol, the Redwood Hill Farm creamery is housed in a converted building known as "the old Vacu Dry Plant." In a clean and modern cheese room that belies the building's history as an apple-processing plant, cheesemaker Patty Beverly makes goat milk cheeses—chevre, cheddar, and feta—using artisan production methods.
"Our cheeses are handmade and hand-wrapped," Beverly says.
Although its yogurt and kefir products are available nationwide, Redwood Hill Farm distributes its goat cheeses only on the West Coast. "The cheeses are more fragile," Beverly says. "We experimented with shipping further east, but we couldn't ensure the quality level we wanted."
Redwood Hill Farm was the first certified humane goat dairy in the United States. In addition to treating its animals well, the company is committed to managing a sustainable operation. Both the dairy and creamery run on solar power. All of the manure and bedding from the dairy's goat barns is used for fertilizer in the vegetable garden and fruit tree orchards. The creamery also recycles whey, a byproduct of the cheesemaking process, to be used as a mildew-reducing spray for neighboring vineyards and as feed for a nearby pig farm. Batches of yogurt that can't be sold are fed to the goat kids.
Beverly notes that cheesemaking is, by nature, a water-intensive process, but at the Redwood Hill cheese plant, water use is kept to a minimum, thanks to low-tech practices like using squeegees instead of sprayers to wash the floor.
Redwood Hill Farm's cheeses are available at Draeger's Market in Menlo Park, Los Altos, and San Mateo, and Mollie Stone's Market in Palo Alto, or can be purchased online at www.redwoodhill.com.  
Harley Farms
The shop at Pescadero's Harley Farms is behind an old-fashioned screen door that creaks and thumps as it swings closed. Arranged around the shop are tasting stations for Harley's farmstead goat cheeses: chevre in a variety of flavors, small-batch brined feta, fromage blanc, and seasonal ricotta. The shop also sells goat milk lotions and soaps and gift items made by local artisans.
A field of colorful edible flowers, visible through the back windows, are grown as decorations for the farm's chevre rounds. "The flowers are the hallmark of our sustainability efforts," says manager Adriana Guzman. Those efforts include a rooftop rainwater catchment system that provides water for the farm's 200 goats for seven months of the year, a composting shed to manage manure waste, a grey-water irrigation system for the pasture, and closed-loop heating and cooling vats in the cheese room. Fifteen of the farm's employees are housed on the farm, negating the costs of commuting.
Harley Farms is a "hyper-local" producer. "We sell most of our cheese on site," Guzman says. Farm owner Dee Harley hosts farm tours, cheesemaking classes, and seasonal dinners with food entirely sourced from her own and neighbors' farms. The farm shares any composted manure it doesn't need with a waiting list of local gardeners, and sends the excess whey from its cheese room to the pigs down the road at Early Bird Farm.
Harley Farms' cheeses are available at the farm's shop at 205 North Street in Pescadero (www.harleyfarms.com). Or find them at Bay Area New Leaf Markets and Whole Foods Markets.
---
Want to learn more about farmstead cheese? Attend the Sixth Annual California's Artisan Cheese Festival on March 23-25 at the Sheraton Hotel in Petaluma. The event includes cheese tastings, talks, and tours (www.artisancheesefestival.com).