Eco-Friendly Car Care
Auto repair shops make a grimy business gleam
By Alan Lopez
Owner Marvin Weitz of The RennShop is as concerned about his employees' health as he is about the environment.
Photographs by Lane Johnson
In the late 1980s, Larry Moore of Larry's Auto Works in Mountain View didn't realize that the oil and gas that he washed down a storm drain flowed into creeks and then into San Francisco Bay.
But when moving his shop in 1989, Moore found there were new rules attempting to limit the practice. He was in favor of reducing pollution, but he found the new rules inconsistent and opposed to good environmental practices.
So Moore, a business owner for decades, got to work. He talked to regulators and led others by example. He stopped dumping pollutants down the drain and created a four-step clean-up process that is now used by auto repair shops around the country.
"He led his industry forward in pollution prevention," says Phil Bobel, who in the early 1990s worked as Palo Alto's environmental compliance manager.
For more than 20 years, Moore has had a hand in developing local and state regulations that limit the amount of pollution caused by auto maintenance shops.
Moore and other South Bay auto maintenance shop owners go a step above the baseline regulations and aim for sustainability, and they do so under the guidance of the Bay Area Green Business Program. Coordinated by the Association of Bay Area Governments, the program is a partnership of government agencies and utilities whose goal is to help businesses comply with environmental regulations and take actions to prevent pollution, minimize waste, and reduce their carbon footprint.
In the South Bay, Larry's Auto Works was used as a model when the green business program began in the mid-1990s.
"Our business is not a dirty business," Moore says, although he adds that the hazardous materials that come out of vehicles are dirty—including oil, coolant, and transmission fluids. "A car is a big container of environmental hazards," he says.
European Auto Works is another green-certified auto maintenance business that goes above and beyond what is required by the government. When the shop moved from Mountain View to Sunnyvale three years ago, its owner opted for a green, energy-efficient building with dual-pane glass and timers for lighting and heat. On sunny days, a skylight allows the shop to keep the lights low or off.
Employee Cliff Greenman says shop owner Ralph Foglein was particular about having a state-of-the-art "green" building, in part because decreased energy saves money in the long run.
"To some degree, you can have your cake and eat it, too," Greenman says. "You can be green and save money at the same time."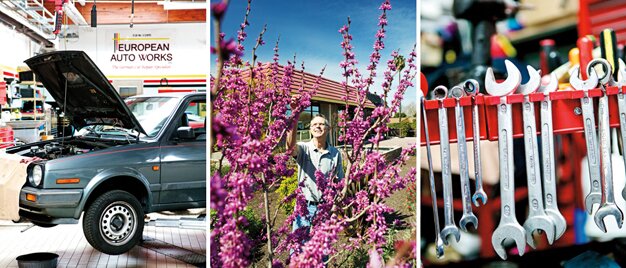 European Auto Works' shop makes additional concessions for the environment. Office workers use more expensive paper made of 100 percent post-consumer content. A drought-tolerant garden in front of the shop is a certified wildlife habitat that attracts hummingbirds and squirrels.
For Marvin Weitz, owner of The RennShop in Santa Clara, which specializes in repairing Porsches, the environment is important, but so is the health of his employees.
Weitz was a technician for 17 years prior to opening his shop almost five years ago. In his experience, he says, car repair shops have their eyes set on profits, not on their employees' health.
With that in mind, his shop minimizes the use of brake cleaners and other chemicals and uses ultrasonic cleaners on engine parts. He uses a "dry wash" on cars that eliminates water run-off and recycles scrap metal, waste oil, and coolant.
The RennShop also utilizes efficient fluorescent lighting and energy-efficient computers and printers that Weitz purchased secondhand. "Any shop that is run decently should be meeting the … green program standards. But I imagine that there are plenty that aren't," Weitz says.
Weitz also encourages Porsche owners not to remove their emissions components, which can increase the vehicle's horsepower but can also prohibit it from legally passing a smog test.
"You can guide people down the right road," Weitz says, adding that he doesn't believe his practices have lost him any customers.
The Dinan Service Center in Campbell, which specializes in BMW maintenance, works with customers to improve the mileage of their vehicles in part through fuel service cleanings of their tailpipes, says service director Andrei Obolenskiy. In addition, the green-certified business also recycles as much as possible.
"We let [customers] know that we do as much as we can to be environmentally friendly and as green as possible," he says. Despite being in the auto business, the company encourages its employees not to drive their cars to work.
Obolenskiy says he commutes by train and light rail from Pleasanton to Campbell. "We try to encourage employees to reduce their carbon footprint as much as possible," he says.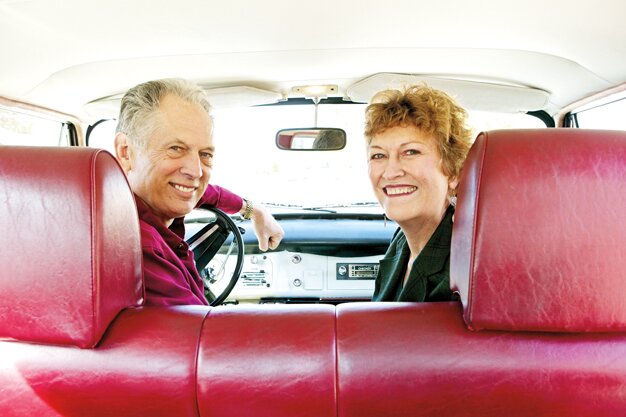 Greenman of European Auto Works also believes in encouraging people not to drive. He says the internal combustion engine of a typical automobile is extremely inefficient for short distances. Although Greenman says he is happy that electric vehicles are becoming more common, he still believes that people should be walking more or riding bicycles.
"Bicycles, public transportation, and shoe leather," says Greenman, who worked for tech start-ups before changing careers 11 years ago. "We all need to find ways to avoid driving."
"We feel good doing it," Greenman says of his company's efforts to be green. "I'm not in the business to get rich. I'm in the business to help people, and I feel like I'm giving back to the community by being green and recycling. We try to be as green as we can."
Still, few businesses, perhaps in any industry, are as green as Larry's Auto Works.
In 1993, Larry Moore's shop received an environmental achievement award for small businesses in Santa Clara County for its environmentally sound facility and practices. In 1999, Moore was appointed to an advisory committee that reviews and makes recommendations on the work of the California Department of Toxic Substances.
More recently, in an effort to prevent pollution of waterways, Larry's Auto Works has started selling brake pads that do not contain copper. Studies have found that copper dust from brake pads is entering waterways and disrupting ecosystems.
In 2010, Governor Arnold Schwarzenegger approved a law phasing out copper from vehicle brake pads to no more than 5 percent by 2021 and no more than 0.5 percent by 2025. Moore championed this legislation, although he says it's unlikely that most auto repair shops are complying yet.
Moore says his business also uses re-refined motor oil, and recycles "virtually everything," including metals, oils, and other liquids like coolants.
"We moved again 10 years ago to where we are now," Moore says. "We went beyond eco-friendly; we went to sustainability."